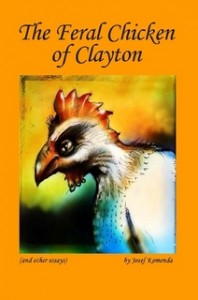 (This essay is several years old and refers to my very patient and forgiving ex-wife. Enjoy.)
COUPLES ARE WONT to go through many pleasant infatuations after getting married. A gardening fad, a fancy for sewing, a board game craze – these are all well known. Sometimes these are long and involved, others are brief, like a shooting star. My conservative estimate is that my wife and I went through at least 5,237 different mania during the seven years we were married.
The majority were of a singular kind – I began woodworking, she began doing something called 'tatting'. Notable were the obsessions that involved both my wife and myself, such as the 'survivalist' frenzy of 1999, or the disastrous 'Atkins Diet' event. For a time (an odd time), I even found myself saving dryer lint for a planned future mania (I was not informed what that might be). Few of these frenzied activities came and went as quickly as the Great Dehydration Passion of 1995.